Afterburner Technology
AfterburnerTM Technology makes wood-burning furnaces efficient and affordable. This patent-pending design burns 40% less wood than traditional furnaces and is only available from Hawken Energy.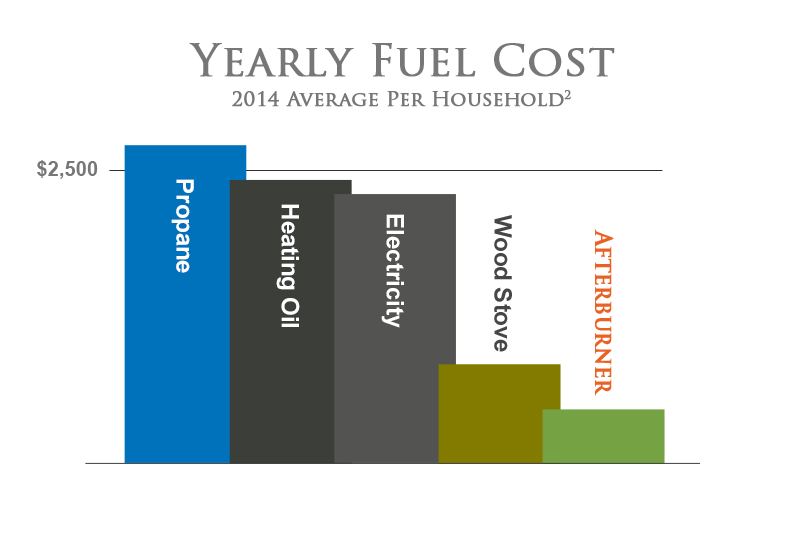 What is Afterburner Technology?
The Afterburner, or secondary burn chamber, can reach temperatures of 2000°F. Smoke is forced into this chamber where the carbon in the smoke is nearly completely consumed. When operating at full temperature, the only thing you should see coming from the chimney is water vapor.
Afterburner technology also includes the Fantom Injector SystemTM (FIS). This oxygen delivery system maximizes the efficiency, control, and safety of each afterburner furnace. With Fantom Injectors a fire burns from the bottom up so that your Afterburner will only burn as fast as you need heat.
The EPA estimates that our Afterburner Technology reduces emissions by over 90% compared to traditional furnaces.3
Afterburner furnaces are EPA Step 1 certified and have received the best in class EPA emission ratings in America!4
Our Catalyst can eliminate nearly all of the remaining particulate matter from the emissions coming out of the Afterburner. To consume these particulates, the catalyst uses an exothermic reaction that adds another 200°F to the system. This allows an Afterburner furnace to use even less fuel to produce the same amount of heat.
Three Heat Exchangers inside the furnace transfer heat from the fire to the water that heats your home or building. Their design enhances the effectiveness of the Catalyst by creating the perfect temperature for a catalytic reaction.
Afterburner doesn't just improve air quality,
it improves your quality of life.
With an Afterburner furnace from Hawken Energy you can breath easy knowing you'll have a furnace that pays for itself over and over again, saves you thousands of dollars off your heating bills, and protects you with the best warranty coverage in the industry.
You can also enjoy a breath of fresh air with the best emission rating in America.
What will you do with all the money you save?
Build Your Own